Tub Sleeper Cat Window Perch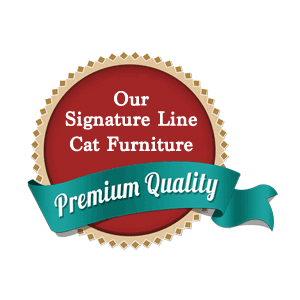 The Tub Sleeper Window Perch is purr-fect for those lazy sunny days. Mounts in seconds on most any opening windows (with or without a sill) and since it is not screwed into your window can be moved easily to any window in your home. Our mounting system makes it safe and secure. Your pets will enjoy hours bird watching, people watching or just napping in their favorite sunny spot!!
If you have a solid pane window we can modify it to work there as well. Please contact us for more details before ordering.

Many different colors to choose from. Easy assembly required.

17" inside diameter
3 1/2" sides
Signature Cat Furniture Line - Top Quality
Our Signature Cat Furniture line is our highest quality, premiere cat furniture offering. The best cat furniture that you can buy - built to last for years to come.
No Pre-Fab - Built to Your Specifications

The CatsPlay Signature Line of Cat Furniture is completely made to order; you choose the color, size and optional features. Match your home's decor and give your cat the gift of a solid, comfortable home to call their own.
Residential Grade Carpet in Your Choice of Colors
The Signature Line is covered in high quality residential-grade carpeting in your choice of colors. Check our color chart to view the available color families. Note, carpet colors will vary slightly.

No MDF or Particle Board - Solid Wood - Built to Last
Buy confidently, knowing that our CatsPlay Signature Line Cat furniture contains no MDF or particle board. It is constructed with sturdy, solid wood and will last for many years. Its quality is abundantly greater than much of the common cat furniture on the market today.
Enhance with Optional Features
On many of our CatsPlay Signature Cat Furniture pieces, you will be provided the option to provide enriching features for your cat - such as the additional of sisal rope scratching areas on one or more posts or legs. We use only quality, natural unoiled sisal rope that contains no toxic materials. You may also add optional mice toys to hang on your cat tree!
Made in the USA by Cat Furniture Experts
Each piece in the CatsPlay Signature Line of Cat Furniture is built by hand by our team of furniture builders here in Santa Cruz, California. Each of our team members has more than 30 years of experience constructing cat furniture, and have built and shipped tens of thousands of cat trees, gyms, condos and scratching posts to happy cats around the world.

Minor Assembly Required
Minor assembly will be required, and full instructions will be provided.
Custom Built Doesn't Mean Long Delays
Your order will leave our warehouse and be on its way to you within a two weeks of the date that you place your order!

Important Notes on Color selection:
To speed up the process of building your order, please select a first and second choice for carpet colors. Remember, the shades of carpet may vary from what is shown here for a variety of reasons. We will do our best to match the carpet you get with the colors you choose.
If you have no 2nd choice , please choose the same color for both 1st and 2nd choice!
Product Filters
Can be Customized
Made in the USA